Light and intuitive hand prosthesis
Moveable introduces the mHand Adapt. The lightest hand on the market, intuitive and easy to use thanks to the patented mechanism. The hand adapts to the shape of the grasped object and always ensures a firm grip. Easy to use and an ideal prosthesis for all everyday tasks.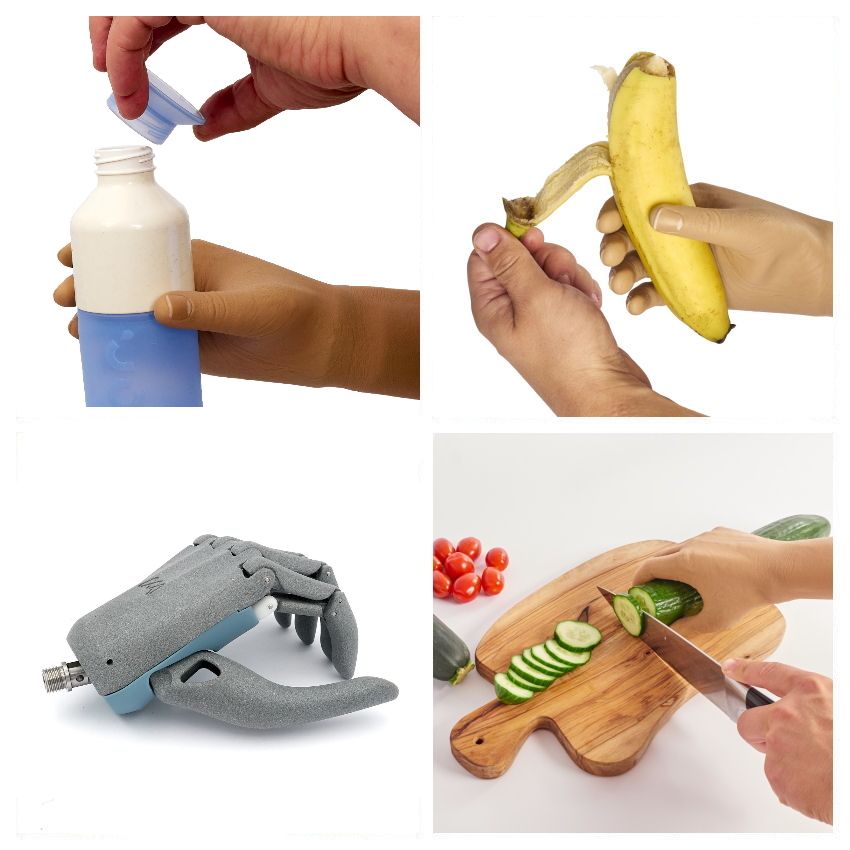 Introducing the mHand Adapt
The mHand Adapt is a prosthetic hand which operates without cables or motors and is able to grab objects by pushing it in the hand.
This makes it possible to:
lift or handle objects with two hands (like cycling)
Use your healthy hand to fix an object in the mHand
Imagine any two handed job, which will be possible
How does the mHand Adapt work?
The hand closes when pushing against something (like a handlebar) or by pushing something in the hand. Just push harder for a firmer grip.
The fingers automatically adapt to the shape of the object. So you always get an optimal grip.
The hand remains closed without you having to think about it.
Opening is like closing: by pushing again on the hand, it releases and opens.
You can adjust the position of the thumb depending on what you want to grab.
Due to its flexibility you can always quickly pull your hand of the object, like a handle bar, in case of a dangerous situation.
Activities with the mHand Adapt
The mHand Adapt works best for activities where two hands are used.
In the kitchen: holding pans, cutting vegetables, dishwashing
Carrying a basket, chairs, a light wheelbarrow
Gardening
Safe and comfortable cycling
Stand up paddle boarding or canoeing
Lifting is tested up to 10kg
Why consider the mHand Adapt?
Until now, you could choose from four types of arm prostheses: interchangeable tools, cosmetic hands without function, body-enforced hands or hooks with a shoulder strap or electronic hands controlled by muscle signals.
The mHand Adapt combines the advantages of these prosthetics in one product:
The hand looks good and offers a lot of function.
After just a few minutes you can use your hand effectively.
You can feel and control how firmly you grasp an object.
The hand is flexible and adapts very well to all kinds of objects.
Without a shoulder harness, the prosthesis is easy to put on.
This lightest hand on the market can be worn without fatigue.
The hand has been tested extensively for durability and function.
Extensively tested!
The mHand Adapt is not only the lightest hand on the market, but also designed to last.
Every prosthesis we develop at Moveable, including our mHand Adapt, is extensively tested during development. For example, the hand has 100,000 times 5kg and 30,000 times a weight of 10kg 'lifted' in our test stand. The interior also had to endure a test with sand and water.
You too can test the mHand Adapt extensively. Through the link you can find all the information you need.